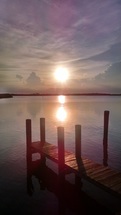 "Mankind owns four things that are no good at sea:
Rudder, anchor, oars, and the fear of going down."— Antonio Machado
​If your life is anything like mine, you find yourself bracing against life on a regular basis, and grasping for answers. The waves seem to come bigger and faster these days, and all the old answers seem to fall short. Fear is clearly useless — and dangerous! — but all of our old skills and tools lie around us, broken and useless. What can we hold on to, in times like these? How do we find a star to steer by? How do we move from bracing to living in grace?
I've only found three things that help in these moments. No, not control. Certainly not certainty. And approval? Empty Calories. These things only drag us down.
The only things that truly help in the hard moments of our lives are the most ephemeral, invisible, and absurd things we can imagine: our breath, our willingness not to know, and our vulnerability.
I know, crazy right? But life-giving.
Our breath
is the only thing that can set you free in the hardest moments of your life — those moments when we're paralyzed with fear or collapsed in grief, burning with anger or driven by desire — breath is our best lifeline. Breath brings us back to the present moment, teaches us to let life in, let go, and rest in the unending flow of our own lives. Breath is the body's original language, and the body's greatest tool in healing the everyday traumas of our lives.
Our willingness to let go of all our knowing
is the only thing that opens a space for a deeper wisdom, an inner compass to rise up inside us. We need to let go of our old questions and our old answers, listen deeper, and discover that we know, deep down, far more than we ever admitted. We need to be content with each moment's little cup of knowing, and take one step at a time, trusting that each step brings new understanding, and unfolds into the next … the path truly is made only by walking.
Our vulnerability
— our willingness to be authentically ourselves with people who've truly earned our trust — is the only thing that frees us from a life driven by endless approval seeking, into a more authentic, joyful life. One risk at a time, one relationship at a time, we surrender all our images of perfection, and soften into our "one wild and precious life" — the only life worth living.
Will these things keep our boat from going down? No. But as the diamond sutra says,
"Thus shall you think of this fleeting world: A star at dawn, a bubble in a stream, A flash of lightning in a summer cloud, a flickering lamp, a phantom, and a dream."
Or, as one of my elders likes to say, "hokahey," which means, "Let's roll." This is a good moment to live — and our breath, our willingness not to know, and our vulnerability give us our life back, right here and right now. They make us real and they make our world real to us. They give us the opportunity be the only person we truly can be, to enjoy the only life we have, and to give the gifts that we alone can give.
So,
let's talk
. Or
breathe together
. Of course, I have
some wonderful workshops and journeys
you might enjoy participating in, with other courageous, loving souls. It's hard to stop bracing against our lives, and it takes real practice to set the breath free, to let go of knowing, and to take the risk of being what we already are. We've practiced everything else for so long that we've forgotten what comes easy.
Together, we can remember what it's like to live in grace.
Happy Trails, my friends!
Hunter
---